A Simple Tomato
Soup Recipe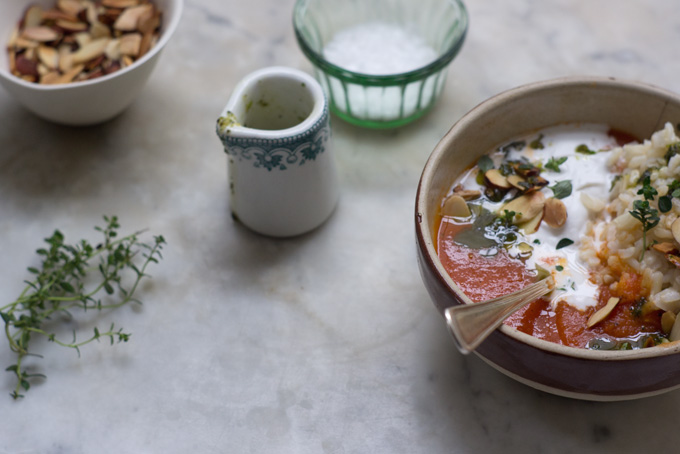 A Simple Tomato Soup
HS: A number of you are concerned about the BPA
liners in a canned tomatoes. Seek out tomatoes
packed in glass jars, alternately I'm aware that
Muir Glen has transitioned to BPA-free liners,
although it's tricky, because those cans aren't
labeled BPA-free. Look for cans with expiration
dates as far out as possible (2014? 2015?),
those are more likely to have the new liners.
4 tablespoons unsalted butter, olive oil, or coconut oil
2 medium yellow onions, thinly sliced
1 teaspoon fine grain sea salt, plus more to taste
3 teaspoons curry powder
1 teaspoon ground coriander
1 teaspoon ground cumin
1/2 teaspoon chile flakes
2 (28-ounce) cans whole tomatoes (pref. fire-roasted)
1 14-ounce can coconut milk
to serve: any of the following that sound
good to you - cooked brown rice, lemon
wedges, toasted almond slices, pan-fried
paneer, fresh thyme or oregano, oregano
drizzle, a poached egg
In a large pot over medium heat melt the butter.
Add the onions and salt, and cook, stirring
occasionally, until the onions really soften
up - 10 minutes or so. Not so much that they
brown, just until they're completely tender
and unstructured.
Stir in the curry powder, coriander, cumin,
and chile flakes, and cook just until the spices
are fragrant and toasty - stirring constantly at this
point. Just 30 seconds or so. Stir in the tomatoes,
the juices from the cans, and 6 cups / 1.5 L of
water. Simmer for fifteen minutes or so, then puree
with a hand blender until smooth. This is the version
you see up above (minus the toppings). That said,
at this point you can decide if you'd like your soup
even a bit thinner - if so, you can thin it with more
water, or if you like a creamy version, with some
coconut milk. Taste and adjust with more salt to taste.
This soup is great served simply with a dollop of
cream from the top of a can of coconut milk
(a little goes a long way) and a toasted wedge of
good bread. That said, I love it most with the
coconut cream, served over a scoop of brown rice
with a squeeze of lemon, some toasted almonds,
and a jolt of herbs (fresh, or the sort of oregano
drizzle I used here).
Inspired/Adapted from the Curried Coconut
Tomato Soup in Melissa Clark's Cook This Now.
Prep time: 5 min - Cook time: 25 min