Rice and Sesame Pancakes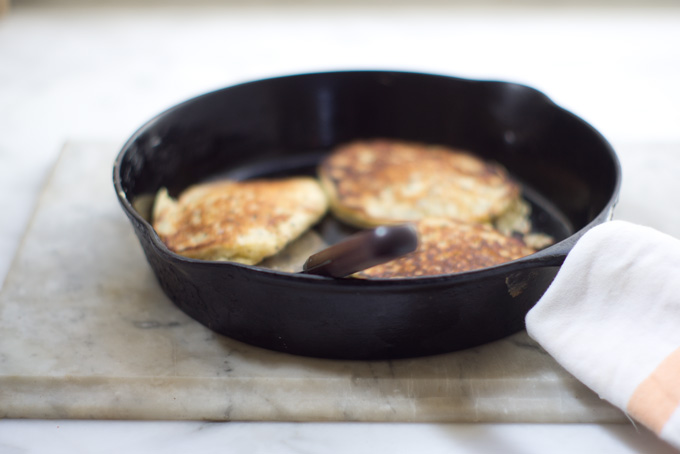 I use a mix of black and white
sesame seeds, and the sheets of nori
I use are about 9-inches square.
1 1/2 cups / 6 3/4 oz all-purpose (or whole wheat pastry) flour
1 tablespoon baking powder
1 teaspoon brown sugar
1/2 teaspoon fine grain sea salt
2 1/2 tablespoons toasted sesame seeds
zest of one lemon
1/4 teaspoon toasted ground cumin
1/4 teaspoon ground cayenne
1 sheet nori, toasted (carefully) over burner until crunchy
2 large eggs
2 cups / 480 ml milk
1/4 cup unsalted butter, just-melted
1/8 tsp toasted sesame oil (optional)
2 cups / 10 oz cooked brown rice, not hot
In a large bowl combine the flour, baking powder, brown sugar, salt, sesame seeds, lemon zest, cumin, and cayenne. Crumble the nori into tiny flecks into the bowl with your hands. Stir until the ingredients are evenly distributed.
In a separate bowl, whisk together the eggs, milk, butter, and sesame oil. Pour the wet ingredients over the dry, and stir a few times with a fork to start bringing the ingredients together. At this point add the rice, and stir until the batter is just combined. Try to avoid over mixing.
Heat a griddle until medium-hot, and brush with a bit of butter or oil. If a drop of water dances across the surface, you're in the ballpark. Pour 1/4 to 1/3 cup at a time onto the griddle. Cook until the bottoms are deep golden and the tops have set a bit, then use a spatula to flip the pancakes. Cook the other side until golden and cooked through. Repeat with remaining batter.
Makes about 12 pancakes.
Recipe adapted by Greg Massa from
then adapted another generation by me.
Prep time:
5 min
- Cook time:
10 min